We look forward to seeing you
7. července 2021

The summer holidays have begun. Maybe you are planning a trip to Bohemian Switzerland, and you are going to visit Mikulášovice. We will be happy to see you in the city, and we believe that you will not be bored when visiting. And it's not just the beautiful natural scenery that we can offer you.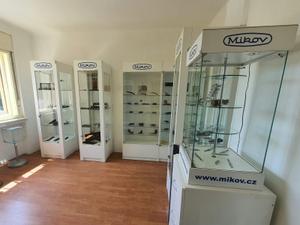 In addition to a great swimming pool, the beautiful Church of St. Nicholas (by its wall, you will also find the tomb of the founder of the local cutlery Ignaz Rösler) or the Tanečnice lookout tower, you should not miss our museum. To not miss it, we have already placed the navigation board on the outskirts of the city.
The Museum of Cutlery Tradition itself is then right in the centre of the village - in the Municipal Information Center. It is open every day from 9 am to 4 pm, including weekends.  You can see there almost 2,500 exhibits, especially historical knives, which were created in our country during three centuries of cutlery-industrial production. But not only that! We have also prepared for you some samples from the production of office equipment, which is almost as famous in our region as the production of knives. 
A tour of the museum may be a good inspiration for you to shop in our store. It is located in the same building, the phone number of the store is +420 739 452 734. You can find (and of course, take a good look at, touch and try it first) there our complete assortment. A similarly equipped shop of Mikov knives is nowhere else.
And if you get hungry during your visit to the museum, we invite you to the Ron Hotel. It stands next to the Church of St. Nicholas, where you will find a small exhibition of our products, and perhaps you will like it so much that you decide to say a bit longer and enjoy the hospitality of one of our rooms. But it is better to book in advance on the phone number +420 412 394 154.
So, you have already booked a date for a trip to Mikulášovice in your calendar?