Mikov is not afraid of Industry 4.0 - The company can connect robotics with traditional handcraftsmanship
19. října 2021

A new worker who does not need breaks, holidays and can work continuously - this is a robot operating a chisel grinder in the production hall of Narex Bystřice, which until now belonged to the so-called "bottlenecks" of production.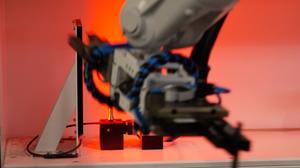 "Ever since Mikov bought the Narex Bystřice factory in 2019, the demand for hand-held carpentry and carving chisels have been steadily rising. Due to the situation on the labour market, there was no other way for us than robotization and the transition to the so-called Industry 4.0, "said Karel Ježek, owner of Mikov. 
However, the added value of all Mikov products - especially cutlery, but also chisels, remains an irreplaceable share of craft human work. So far, vending machines cannot fully replace this. On the other hand, they can replace humans where mechanical work requiring a high degree of precision is involved. 
Robotic arm supplies a grinder that chisels the desired shape. However, with the help of optical measurement, it also immediately detects if there is a deviation from the prescribed tolerance during the operation. Thanks to this, not only the productivity of work has increased, but also its quality, "said Marek Kocáb, director of Narex Bystřice, adding:" However, it is not the last robot in our company. In the coming weeks, we will install several more robotic workstations." 
Mikov is a company based in the centre of Bohemian Switzerland. It is the largest Czech manufacturer of cutlery, office equipment, industrial connectors and nailers and, through Narex Bystřice, hand tools.
The project entitled "Robotized workplace for chisel production" was supported by the Operational Program Enterprise and Innovation for Competitiveness within the campaign: TECHNOLOGY - XIII.