Mikov helps active people who have the desire to make the world around them better
12. září 2022

It's not only big events like the Knife Festival, building the Museum of Knife Tradition or the War Veteran Project where Mikov tries to help. There are many talented and capable people in our area and we want to realize their dreams and plans with them.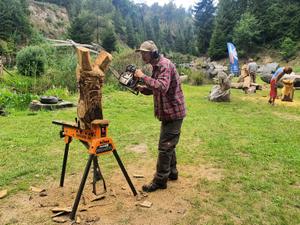 Of course, we cannot contribute to all those who need it and who turn to us. Therefore, we have established certain principles. Above all, we support activities that are local, related to sports, nature, hunting and conservation.

So who do we help specifically? Of course to the soccer club FK Mikulášovice, which has 4 youth teams + an adult team. Thanks to soccer, dozens of boys from Mikulášovice have the opportunity to spend their free time in a meaningful way. In addition to football, the boxing club also offers them the opportunity to discharge their energy and gain the basics of fair play, which, with our support, of course, we also do not forget.

The Youth Tourist Club also offers a quality programme for our children. Its members in the tourist race have medal successes on the European stage. We are proud of them and supporting them is also one of our priorities. And last but not least, we also stand behind the promising trap shooter Adéla Bryndová.

Of course, it is not only athletes who help create a good climate in our city. We also sponsor the local volunteer firefighters, hunting associations and interesting events that take place in our town and in the surrounding area - whether it is the sculpture symposium Mikulášovická řežba, Lipovský dřevák or even small races, trails of courage, etc.

And finally, we had the Gaston Memorial in Děčín - a long-distance swimming race in memory of the famous Gaston the sea lion, who got out of the Prague Zoo and into the Vltava and Elbe rivers during the floods in 2002. And although he was eventually pulled out of the water, he did not survive his great adventure. Of course, we cannot help Gaston anymore, but by supporting his memorial we draw attention to the need to protect nature.

Of course, we can't change the whole world for the better, but we think that maybe our support can make it a little better somewhere. It's worth it to us.