Micarta - Repetitor handle material
23. ledna 2023

It is important for every knife designer to design the correct blade shape, steel hardness and grinding method. But it is equally important that the handle of the knife is not only well-fitting in the hand, but also sufficiently strong, durable, elegant and safe.  For the last of the Project War Veteran knives - Repetitor - the choice of material fell on Micarta.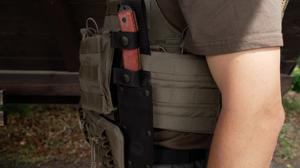 It is supplied in sheets from which the handles are then cut on CNC machines. Also, the surface texture of Repetitor military knife handles is also additionally machined for a more secure grip, as Micarta has no surface texture of its own.

The result is an attractive, lightweight and strong handle material that resists scratches well. In addition, it is water-resistant and does not slip in the hand when using the knife in wet conditions. In addition, it also insulates the electric current well. It is produced in many designs, which is why it was possible to choose a colour for the Repetitor's handle that reminds those who remember it of the legendary Model 58 submachine gun bayonet, which was the inspiration for Repetitor.

The Repetitor is a military knife, but it will also find use in everyday outdoor activities. Every customer who buys it will also contribute CZK 300 to the Military Solidarity Fund, which helps the families of soldiers who have died or lost their health while performing their duties in the service of their country.