Football legends - the solution in search of an original Christmas gift
20. listopadu 2023

Football fans are keeping a close eye on the culminating qualification for the European Football Championship, which will be held next year in Germany, the playoffs of the autumn part of the 1st Czech Football League and the final matches of the European Cup groups. Which active footballers will become football legends with the passage of time we can only guess.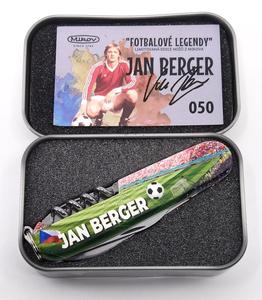 However, we know very well that those who have already had their careers behind them, and have indeed become football legends, have contributed to this unwritten title with their performances. Mikov has decided to commemorate their illustrious careers with a limited edition series of closure knives called Football Legends. Among other things, the edition is original because the design of the knives was created by the footballers themselves. Each closing knife has an original number engraved on the blade and is accompanied by a unique certificate of authenticity, personally signed by the footballer in question.
The knives of three legends - Jan Berger, Jan Koller and Vladimir Šmicer - are currently on sale. The Hundred Closing Knife, on which the Football Legends edition is based, consists of two blades, a bottle opener, a screwdriver, a wire stripper, a can opener, a corkscrew and a spike. Mikov knife sold in a tin gift box.
If you are thinking of an interesting Christmas gift for a sports fan, the Football Legends edition may be the perfect choice. However, there is literally a knife for everyone from Mikov's range. Users of hunting knives, Predator throwing knives, sport knives, military knives, outdoor knives or knives for craftsmen will find exactly what they need on the e-shop.